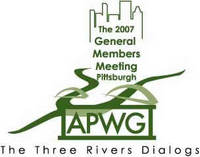 The
Anti-Phishing Working Group
is having one of its periodic member meetings, this time in Pittsburgh. Probably I shouldn't report too much detail, but I'll say that interesting things are going on worldwide that may spread to other countries. For example, in Japan it seems that fake programming sites are more popular than phishing. Also, if I heard correctly, most phishing in the Japanese language originates from phishers in Japan. This would make sense, since it's very hard for foreigners to write well enough to pretend to be Japanese. So that one probably won't spread too widely, but the fake programming scam could.
My favorite is the history attack. World War II ended on 15 August 1945 in Japan, so a timeline of that war can get a lot of hits on a war's end link in August of any year. Who would have known history could be so popular?
Meanwhile, during Carnival in Brazil, nobody reports malware, so there's a dip in measurements…. Then and the rest of the year, sophisticated personalized social engineering attacks seem to be popular in Brazil.
-jsq